Written by Mansi Phore
INTERNATIONAL SERIES MOROCCO
It was amiable that 10 Indian Players were given the honour to play at Royal Golf Dar ES Salam, Rabat at the International Series Morocco. The serene beauty of Royal Golf Dar Es Salam is interspersed over 440 hectares of flora and fauna.

Admirably located in the site of oak forests, this course is an astonishment of its kind: technicality, quality of the courses and the greens. Golfers and aesthetes find this place evident to the magic of tranquility.
Getting the taste of the series, golfers got ready to try their hands on an exciting purse of US $1,500,000.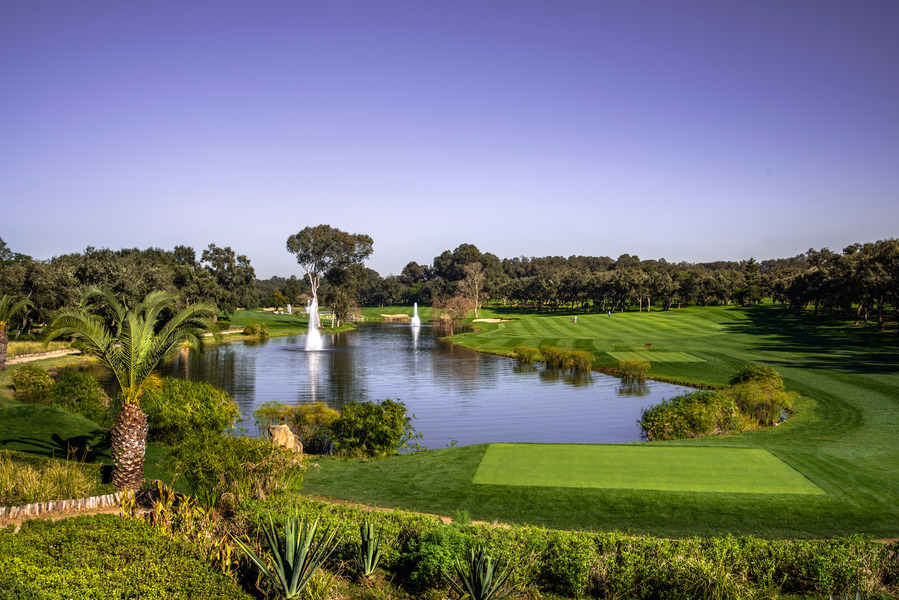 Royal Golf Dar Es Salam
Indians Golfers Played-
Thai Golfers in Top 20-
Day 1
As the sun Set on the first day it was the white US golfer Cole Madey who held the center stage with 6-under by the end of round 1. His best swing was at hole 8 where he got one monster eagle. He birdied 13th , 17th and 18th. But an unfortunate luck touched his club at the end of round 2 where he dropped his lead to down at T14 with two bogeys in front nine.
Cole Madey(left) and Nitithorn Thippong
Thailand's Nitithorn Thippong shined like beacons through the fog to grab first position in a tie with Cole by the end of round 1 at international series Morocco today. The man brought in four birdies card in his front nine and then paddled his foot again to two birdies at the eleventh and the eighteenth finishing six-under (67). He still managed to remain in second position by the end of the second round, swinging one bogey on both front and back nine.
Steave Lewton , Canadian star stood solo at the third position, one stroke behind the Thai boy in his total score as he finished five-under at the Royal Golf Dar ES Salam. On a day when scoring was a task after the first day, the second day was not as easy for the canada celeb as he dropped at T5 by the end of the second round.
Sarit Suwannarut luck in Morocco continued to blow hot and cold. Using his birdie swings at eighth,ninth, fourteenth, sixteenth and eighteenth shot four-under. Apparently , the scoreboard for the second round didn't seem to be very great for many golfers who were leading in the first round.
The charismatic Danny Masrin finished round 1 with two bogeys, tieing forth in the tournament at the end of the first round. The greens were found to be tricky for this golfer , which led him to as low as 23rd position when the audience had a look at the scoreboard of round 2.
American professional golfer Trevor Simsby teed from the first hole took a bow at the international series morocco with a six birdies. The 30 year old recorded two bogeys on the 6th and 17th. He parred at 10 holes equally on his front nine and back nine and finished the round 4-under tieing 4th.

Notably, Thai players seem to love International Series Morocco, their performance on the Asian soil have been noteworthy as Nitithorn Thippong, Sarit Suwannarut, Rattanon Wannasrichan, Sadom Kaewkanjana, Kiradech Aphibarnrat, Poom Saksansin were there in the list of top 10 of International Series Morocco in the leaderboard of round 1.
Former European Tour Player , Jyoti Randhawa had a disappointing round1, although he stood at PAR with 2 birdies and one bogey in his front nine and 2 bogeys and one birdie at the back nine finishing a T39 with S.S.P Chawrasia. From an Indian point of view, S.S.P and Aman Raj were the Indians who bagged 32rd position in the leaderboard of 2nd round's final scores.

Arjuna Awardee Gaganjeet Bhullar found it tough moving upwards in the leaderboard of round 1 to which he stood at T43. He is an Indian star who began his career at Asian Tour 2007.

Day 2
David Puig got a roller coaster swing of a front nine which he rounded off with four birdies at the very end to slide ahead of everyone into the sole lead after the second round.
Richard T. Lee, who shot 72 on the first day to stand at 24th, had a great winning position to stand at second place solely where he was one-over 73. He was one ahead of Kieran Vincent.
Three players including the two brothers- Kieran Vincent and Scott Vincent along with Scott Hend were tied third at seven-under after the third round, while other two including Thai's Jazz Janewattananond and Erik Compton were tied-sixth. Jazz Janewattananond, a consistent player, finished the third round with birdies on 8-10-17 and one eagle on the 5th.
Turk Pettit , Berry Henson, Sadom Kaewkanjana , Steve Lewton shared eighth into the third day.

The first round Co-leader Nitithorn Thippong dropped to shared twelfth place alongside Jaco Ahlers of South Africa at 3-under 70.
S.S.P Chawrasia may have had a fancied waking up but he definitely had not a great third round to get started with the tournament in Morocco. Tied30 and finished the round at Par 73 with a birdie at 6th and one on 15th. Bihari Golfer Aman Raj, who used to play in the Indian Team (under-19) stood at T38 at Rabat, finished one-over 74. Played well in terms of hitting on the greens with a total of 11 hits out of eighteen.
Gaganjeet Bhullar , Viraj Madappa and Ajeetesh Sandhu all stood at T41 may be symbolizing the Indian thought of unity. 25-year old Indian professional Madappa, recently tied6 in the International Series England came this low in Morocco.

Ajeetesh Sandhu got seven green hits in the front nine and finished the third round with one-under 72.

Day 3
Yet another Thai golfer Jazz Janewattananond put his name at the top on the glittering leaderboard of International Series Morocco. This 26 year old golfer , Tied 5th on the first day, then dropped to sixth on second day and moved to the sole lead to the top after the fourth round. He covered the final round with an eagle on 17th finishing six-under 67, got the winning amount of $270,000.00
Jazz Janewattananond

Richard T. Lee finished three-under 70 by the end of round 4, who was leading the scoreboard of round 2. Son of professional golfer Jeff and Asian Tour player , Canadian man Richard got his hands on $165,000.00 as a winning runner-up amount. He got the winning crown at Solaire Open on the Asian Tour, in the same year when for the first time as a professional golfer.
Young Spanish Golfer David Puig stood at Par by the end of fourth round, and bagged $94,500.00 securing third position as per the final scoreboard. Just behind him , stood Zimbabwean professional golfer , Scott Vincent, who had a disappointing double bogey at 10th hole. Still he managed to have his name in the Top-5.
Meanwhile , the Indian angle is considered to be dismaying as the Indian golfers didn't even make it to top 10 at the Royal Golf Dar ES Salam.

S.S.P Chawrasia, with particular success in the Indian Open where he was the winner in 2016 and 2017. He finished his round 4 with one-over 74 with a single birdie at 18th. T32 with two other Indian stars Ajeetesh Sandhu and Karandeep Kochhar , Chawrasia earned $11,100.00 in this International Series Morocco. Contiguously, Ajeetesh Sandhu had one-under 71 at the end of round 4. He had a bogey free back nine in the final round.

Gaganjeet Bhullar , who tied40 along with fellow Indian golfer Viraj Madappa. Final round for Bhullar was partially good to move ahead as he managed to stay at Par in front nine , unfortunately dropped to 4 bogeys in the back nine of round 4. Finished the round one-over 74. Viraj Madappa was on the same page with Gaganjeet in case of the scoring and positioning himself at pos40 with one-over 74. He did have a bang on performance in his rounds, particularly in the final round with 4 bogeys in all at 2nd , 6th , 9th , and 11th. Both the golfers had $8,539.29 in their pockets at the International Series Morocco.
Karandeep Kochhar had a better round 4, finishing it two-under 71.The previous month, Kochhar won gold medal at 36th National Games in Gujarat.