Written by: Manvi Singh
As the Olympics released the final Women Golf Rankings for Tokyo 2021, Aditi Ashok qualified as the first female Indian golfer for the Olympic Games.
India's lone golfer on the LPGA Tour, Aditi Ashok is all set for her second successive Olympics appearance in Tokyo. After her first endeavour at Rio 2016 with a convincing finish at 41st out of sixty women players, Aditi feels a whole lot more excited for the next stroll on the Olympic ground.
While she qualified 45th on the Golf Ranking list in 2021, she couldn't contain her spontaneous demeanour and vented in admiration on her Twitter handle saying,
"I still think of @Rio2016 like it was only yesterday. To have the honour of playing for India @OlympicGolf @Tokyo2020 is beyond exciting. I'm privileged to have the opportunity to represent my country and my sport at the games again. #Tokyo2020 #OlympicGolf" the golfer tweeted.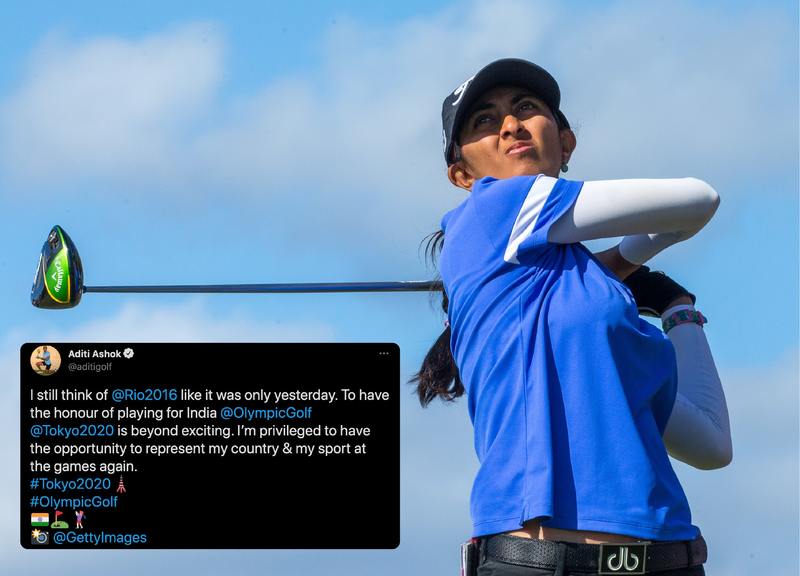 Aditi Ashok's tweet on her uncontainable happiness over the Olympics go.
While Aditi rejuvenates on a celebratory note, the Sports Authority of India inordinately supports her flight to success congratulating her on their Twitter handle along with sharing her success story from the early days.
"Many congratulations @aditigolf for becoming the 1st female Indian golfer to qualify for #Tokyo2020 after the final Olympic rankings were released today. She qualified in 45th place and is going to be playing her 2nd Olympics. #Cheer4India" SAI tweeted.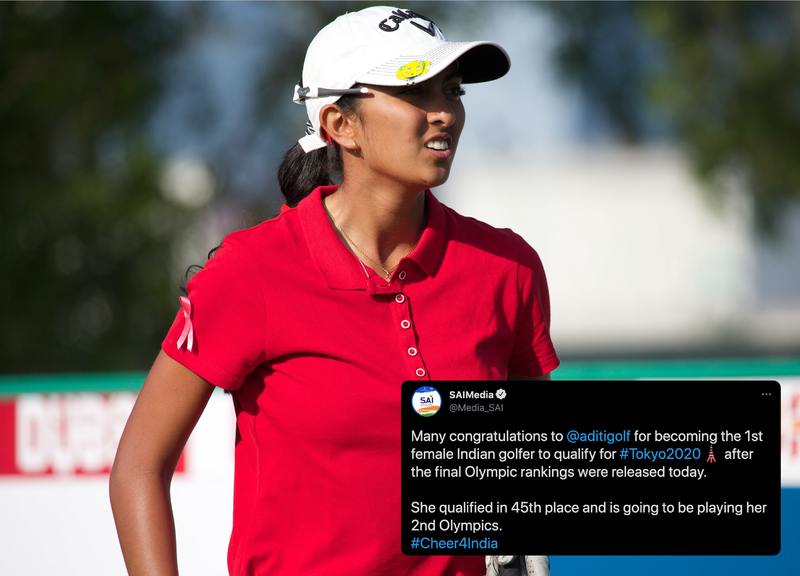 SAI's tweet on their Twitter handle.
As Aditi came through in the first list, Diksha Dagar too followed suit as fifth reserves in case of some specific pull-outs in the second list. As she overtook Tvesa Malik on the Czech Ladies Open course last week, her road to the Olympics is still bouncy along the course.
As the fifth reserve, Dagar will need a lot more permutations and combinations in a rather complicated filing system to finally qualify for Tokyo.
Next on the task list will be the International Golf Federation to send confirmatory notification of the qualified athletes to the National Olympics Committees. The Committees will then confirm the use of allocated quota places to the IGF by July 1 and the IGF, in turn, will re-allocate all the unused quota places before the Tokyo 2020 sport entries deadline on July 5.
While on the player's edge, Udayan Mane, Anirban Lahiri and Aditi Ashok hold their batted breaths to make a glorious history of their significant opportunities on the mega-International grounds.