Following their results from the 2022 season, 14 Indian youngsters from different parts of India have qualified for the US Kids European Championships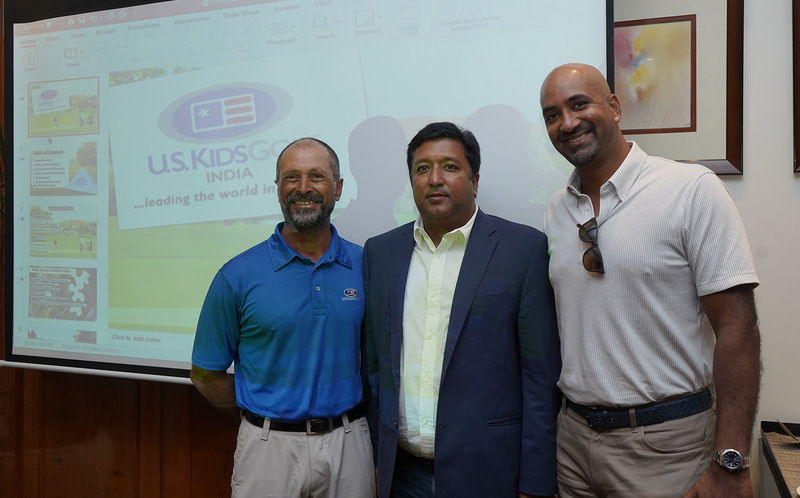 Rajesh Srivastava, President of U.S. Kids Golf India and President of U.S. Kids Golf Asia, with Amit Dube (extreme left) and Amit Nigam (Right) at the Press Conference on Saturday, May 20th, 2023
The US Kids Golf Tour India is expected to grow and will host its first international series in Singapore the following month. 14 Indian children from various parts of the country have qualified for the US Kids European Championships based on their 2022 season results.
Boys: Devvrat Singh Rajawat and Rayan Sao (boys 12), Paranjaay Mahtani (boys 11), Adit Veeramachaneni (boys 9), Vidit Aggarwal, and Aarnav Patel (boys 10), Nihaal Cheema (boys U-7), Jivraj Khurana, Harjai Milkha Singh, and Arshvant Srivastava (boys U-9) (all boys 13).
Girls: Mahreen Bhatia (girls 12), Ananyaa Sood (girls 11), and Naina Kapoor (girls 11). (Girls 14). The Indian expansion will see six events on the local level, while the series of six events in Singapore starts next month on June 13.
"The series of events will soon expand to other Asian countries," said Rajesh Srivastava, President of US Kids Golf India, who is also President of US Kids Golf Asia. "We are also expanding our outreach in the South and West Zones, and by 2024 we will add the East Zone.
With 24 local events, regional finals in each zone, and an Indian Championships, it will become the most exhaustive series offering a pathway to the US Kids European and World Championships."
"An Asian Championships is also on the anvil, and events will also offer American Junior Golf Association (AJGA) stars, which will help youngsters play more events in the US and also gain an advantage in getting to American colleges for golf," added Mr. Srivastava.
In March, the US Kids Golf Foundation, the primary organizer of almost 1,500 US Kids Golf events in almost 50 countries, appointed Mr. Srivastava as President of US Kids Golf Asia.
"We want to give our young and talented golfers a chance to play at the best courses. Not just in India, but also outside. For instance, the US Kids Golf European Championships are held at courses like the Renaissance which is the host venue for the Genesis Scottish Championships, which is co-sanctioned by the PGA TOUR and the DP World Tour. Imagine the experience kids will have when they play at courses that have seen the likes of Jon Rahm, Scottie Scheffler, Justin Thomas, Collin Morikawa and others," added Srivastava.
Interestingly, Justin Thomas, Scottie Scheffler, Collin Morikawa and American Indian Sahith Theegala have all been past participants at US Kids Golf tournaments in their youth.
Although US Kids Golf India did have a South Zone series, it was later stopped by the pandemic. Aside from the full season in the North, that series is currently being restarted in the West Zone. Amit Dube, Rahul Ganapathy, and Amit Nigam will continue to serve as the tournament directors for the competitions in India, the South, and the West, respectively. They are all well-known coaches and golf professionals.
The use of championship golf courses for its events is something US Kids Golf India is very proud of. Even though the Jack Nicklaus Signature Classic Golf and Country Resort has hosted numerous events, others will take place at renowned facilities like the Delhi Golf Club, as well as in Bengaluru and other western regions of India.
US Kids Golf Foundation and US Kids Golf India
The US Kids Golf Foundation is an international organization that actively works to promote golf throughout the world. It has been active in India since 2018. It gives kids the chance to play in settings that meet international standards and creates a set of the highest caliber so they can grow as athletes in this Olympic-recognized sport.
The foundation takes part in a wide variety of activities, including organizing competitions around the globe, providing junior golfers with equipment that is appropriate for their physical abilities and of an international standard, and building a pool of coaches with standardized training to enable full support for the development of young golfers.
The U.S. Kids Golf Foundation has helped some of the top golfers in the world, including Jordan Spieth, Justin Thomas, Patrick Reed, Colin Morikawa, Lexi Thompson, and Alexa Pano, among others, by providing a world-class platform since its inception.
The current rising star Avani Prashanth and Aditi Ashok, both from India, have performed admirably in the past at US Kids Golf competitions.
Read more stories at - https://4moles.com/golfing-news/golf-tour-in-sabah-malaysia-golfing-paradise